The Centers for Disease Control and Prevention (CDC) estimates more than 1 million people in the United States are living with HIV and 1 in 5 of those individuals living with HIV is unaware of his or her infection. As a result, each year about 50,000 Americans are newly infected.  
What Are the Symptoms of HIV?
Within a few weeks of being infected with HIV, some people develop flu-like symptoms (fever, swollen glands, muscle aches, headache or rash) that last for a week or two, but others have no symptoms at all. People living with HIV may appear and feel healthy for several years. However, even if they feel healthy, HIV is still affecting their bodies. The only way to know for sure if you are infected is to take an HIV test.
Why Should I Get Tested for HIV?
The CDC estimates that 20% of HIV+ individuals do not know they have HIV. These people may look and feel healthy and do not think they are at risk. However, anyone of any age, race, gender, sexual orientation, economic class can become infected. If you do not know your status, you cannot get the health care and treatment needed. Being unaware of your status means that you could pass HIV to others without knowing it. 
The CDC recommends that everyone age 13-64 be screened for HIV at least once. If you are at increased risk, you should be tested at least once a year. If any of the following applies to you, you should be tested:
Had vaginal, anal or oral sex without a condom or other latex barrier (dental dam)

Shared needles or syringes to inject drugs (including steroids or hormones)

Uncertain about your partner's status

Pregnant or considering becoming pregnant

Had a sexually transmitted disease (STD)

Have Hepatitis C (HCV)
How Do HIV Test Work?
The most commonly used HIV tests detect HIV antibodies – special proteins that our bodies make to identify "intruders" like viruses and bacteria. There are tests that look for HIV's genetic material or proteins directly; these may also be used to find out if someone has been infected with HIV.
It can take some time for the immune system to produce enough antibodies for the antibody test to detect, and this "window period" between infection with HIV and the ability to detect it with antibody tests can vary from person to person. During this time, HIV viral load and the likelihood of transmitting the virus to sex or needle-sharing partners may be very high. Most people will develop detectable antibodies that can be detected by the most commonly used tests in the United States within 2 to 8 weeks (the average is 25 days) of their infection. Ninety-seven percent (97%) of persons will develop detectable antibodies in the first 3 months. Even so, there is a small chance that some individuals will take longer to develop detectable antibodies. Therefore, a person should consider a follow-up test more than three months after their last potential exposure to HIV. In extremely rare cases, it can take up to 6 months to develop antibodies to HIV.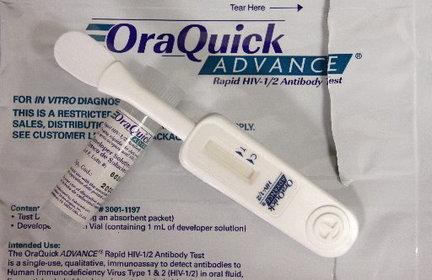 The most common HIV tests look for these antibodies. The HIV antibody test, called ElISA or EIA is one of the most reliable medical tests. It can be done on blood, urine or saliva. Some antibody tests take a few days for results, but rapid tests (pictured above) are also available that can give results in about 20 minutes.  
A negative antibody test result means your body has not developed antibodies and you are probably not infected. A positive HIV test result means that a person may have been infected with HIV. All positive HIV test results, regardless of whether they are from rapid or conventional tests, must be verified by a second "confirmatory" HIV test.
Where Can I Get Tested?
 You can get tested at your local health care provider's office, a clinic, a local health department or a community based organization. Many states offer confidential and/or anonymous testing. It is best to get tested at a place that also provides counseling. Counselors can answer questions about high risk behavior and suggest ways you can protect yourself and others in the future. People who test positive can receive support and referrals to health care and other services. The counselor will assist throughout the entire process. 
To find a testing location near you, click here.
Sources: CDC, The Well Project