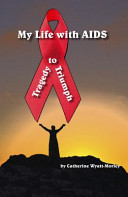 My Life With AIDS, Tragedy to Triumph – Available NOW
With FIVE STARS on www.amazon.com, My Life With AIDS, Tragedy to Triumph is available now! Considered "a must read" by one reviewer,  "Catherine not only delivers a powerful message, but one that is heartfelt, honest and impactful. It is one of the most important messages that a woman (or man) could witness."
Just like her previous work, Catherine Wyatt-Morley has poured her heart into this book using every bit of strength she has. Catherine went through a cycle of internalizing and self-educating, before she gained the strength for helping others. Desperately seeking sanity in an insane diagnosis, she took control of her life through the pages of her first book, AIDS Memoir Journal of an HIV Positive Mother written to her children and in 2005, Catherine joined Ian Mayo-Smith in writing a second book, entitled Positive People: Combating HIV and AIDS (Trafford Publishing).
In AIDS as in many other diseases both physical and psychological, the most successful prevention efforts aim not just at informing people, but also at changing social norms. Catherine's life and W.O.M.E.N. carry out both of those tasks. Catherine hopes to remain at the forefront in the fight against HIV/AIDS and fervently believes that before the sun sets on another child's dreams, HIV must be eliminated. "I can say that she not only writes the message, but she LIVES the message each day as she strives past her own struggles to educate and impact others." – amazon.com review of My Life With AIDS, Tragedy to Triumph. 
My Life With AIDS, Tragedy to Triumph is available HERE  in paperback and Kindle version
 Pick up your copy today!