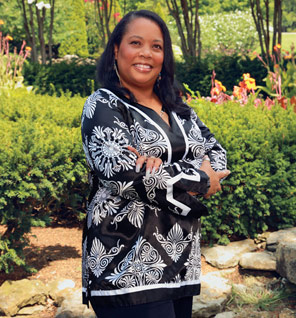 Catherine Wyatt-Morley 0
Catherine Wyatt-Morley is the Founder, Chief Executive Officer and the heart-beat of Women On Maintaining Education and Nutrition (1994). Also, in that same year Wyatt-Morley found Women On Reason To Heal (W.O.R.T.H), the first and what has become the oldest HIV-positive women support group in Middle TN. Wyatt-Morley's authorship includes AIDS Memoir Journal of an HIV Positive Mother, Positive People Combating HIV/AIDS and My Life With AID
S Tragedy to Triumph.
The recipient of numerous awards and honors, Wyatt-Morley was inducted into the Women's National Hall of Fame, received the prestigious SELF Magazine Women Doing Good Award, the Top Ladies of Distinction's Community Service Award, Bank of America's Local Heroes Award, the Delta Sigma Theta Sorority's Leadership Award, the YWCA's Breakfast of Champions Award, nominated for the Nashville Business Journal's Women of Influence Award, and Nashville CABLE's Athena Award.
Catherine's debut acting talents can be found in the upcoming pilot episode of Stirring Up Trouble-Nickelodeon and RN's at Law pilot episodes. She has appeared in countless media outlets nationwide including SELF Magazine, The TODAY Show, A&U Magazine, POZ Magazine, CNN, Voices of America, MSNBC, Talk America Radio, FX Radio, SiriusXM Satellite Radio, The Palm Beach Post, The Indianapolis Indiana Recorder, The Los Angeles Times, The Canadian Sun, The Nashville Scene, and the Tennessean. Also, Wyatt-Morley has been featured keynote speaker at many universities, medical clinics, hospitals, women's groups, conferences, churches, political forums, high schools, public and private businesses and youth facilities. A Distinguished Faculty Member of Bristol-Myers Squibb Pharmaceutical Company's Speakers Bureau, she is a highly sought after orator.
With the outgrowth and 24 year progression of W.O.M.E.N., Catherine is using her exceptional visionary talents for the acquisition of Whispering Hill, a picturesque rural holistic wellness center. Whispering Hill, a unique one-of-a-kind facility will integrate holistic approaches to care among women living with life altering catastrophic issues. The holistic healing concept combines Eastern wisdom, traditions, and arts disciplines with Western achievement designed for optimal health outcomes.
As a catalyst for change in women's health, economic, social, and cultural development, a humanitarian business professional and personal coach, Catherine encourages women to unearth talents, and pursue their destiny. Her purpose driven life and foremost work has impacted thousands in Switzerland, Nigeria, Ghana, Thailand, Poland, Canada, Trinidad, Guyana, China, Turkey, France and Kenya. Utilizing in country support, Catherine successfully established a branch of W.O.M.E.N. in Kenya.
Inasmuch as Catherine has become a model of hope for women her life exemplifies service. Catherine's infectious spirit frames her empowerment message inspiring women to move beyond adversity. Walking in wisdom, her destiny intertwined a greater purpose as she deliberately, strives towards making a difference in the lives of women and girls. In more than two decades living with AIDS, Catherine has raised her children, operates a seasoned fiscally responsible nonprofit, and brought about transformational change while demonstrating a life of purpose.
 For a copy of AIDS Memoir Journal of an HIV Positive Mother, Positive People Combating HIV/AIDS, and My Life With AIDS, Tragedy to Triumph, click HERE.