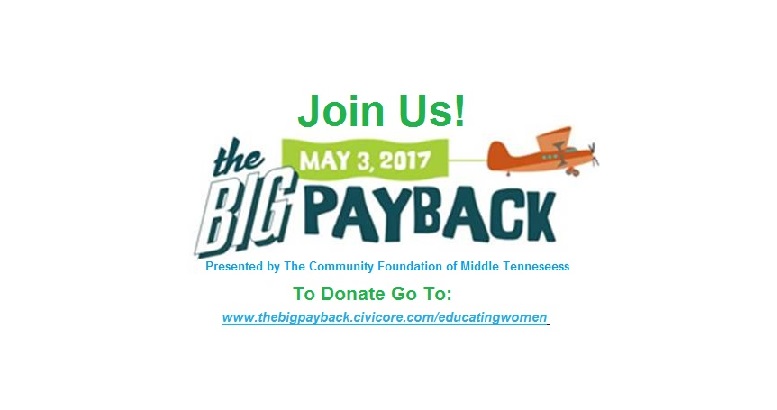 Now's the time – The Big Payback is here!
We've been counting down the days to The Big Payback. The excitement surrounding 24 hours of Middle Tennesseans coming together to support the nonprofit community is contagious. And thanks to supporters like you, we are able to continue our vital work in bridging the gaps to reduce health disparities while making a positive impact in Middle Tennessee.   In the past three years, more than $6.75 million has been raised for our community. Let's rally together to make The Big Payback 2017 even BIGGER.
Our Cause
Domestic violence can happen to anyone of any race, age, sexual orientation, religion or gender. It can happen to couples who are married, living together or who are dating. Domestic violence affects people of all socioeconomic backgrounds and education levels.
* One in four women (25%) has experienced domestic violence in her lifetime.

* Nearly three out of four (74%) of Americans personally know someone who is or has been a victim of domestic violence.

* On average, more than three women and one man are murdered by their intimate partners in this country every day.
    Abuse is physical, sexual, emotional, economic or psychological actions or threats of actions that influence another person. This includes any behaviors that frighten, intimidate, terrorize, manipulate, hurt, humiliate, blame, injure or wound someone. Take a stand with us and help us stop domestic violence in Nashville Davidson county and surrounding areas. Our mission is to bridge the gaps to reduce health disparities. The women and children of our community are counting on your time and donations. Thank you so much in advance for your support.
Get involved
Contribute to Women On Maintaining Education and Nutrition by visiting www.TheBigPayback.org, search for W.O.M.E.N., and complete the easy and secure donation form or by clicking www.thebigpayback.civicore.com/educatingwomen this link will take you directly to our #BigPayback page for you to donate.Your gifts on Wednesday, May 3 are eligible to be amplified by bonuses, incentives, and prizes made possible by The Big Payback's generous sponsors. Also, check out our social media pages there you can like and share us with your friends. Spread the word the Big Payback event is not just important to us, It's important for our community … and you!
Our staff and board of directors would like to extend a heart warming thank you to all of our dedicated supporters, volunteers and donors.
Thank you !