W.O.M.E.N. and Luci Lampe invites you to The Listening Room Cafe on Friday, August 12th at 7pm!
Admission is a $5 donation or a new pack of unworn panties!
W.O.M.E.N. was the winner of Luci Lampe's "Song for You" contest held in the Spring. The winner-inspired song will be performed for the first time at this event. Don't miss out!
The Listening Room is located at 209 10th Ave. S #200, Nashville, TN.
Also, check out Luci's website @ http://www.newlucimusic.com/luci/Home.html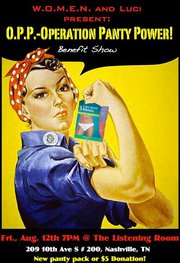 **This event is open to the public**