HIV LOOKS LIKE ME
"Removing the stigma associated with HIV/AIDS"
 Purpose: The purpose of "HIV LOOKS LIKE ME" is to remove the stigma associated with HIV/AIDS by educating  communities who believe they are not at risk. W.O.M.E.N. seeks to show that this disease can affect anyone regardless of your economic background, religious belief, career, age, or race. Our goal is to change the perception of HIV/AIDS, increase awareness and encourage HIV testing.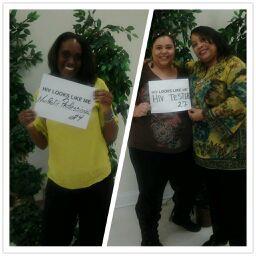 Please help fight stigma by viewing and sharing the PSA. To view, click on the link below.
In addition to the PSA, we are starting a photo challenge. We challenge everyone across the world to help us change the stigma. You can help by Downloading the  HIV LOOKS LIKE ME SIGN here. Then, fill in your occupation on the line provided, and age underneath. Finally, take a picture of yourself holding the sign and uploading it to our social media site. Make sure to tag yourself and W.O.M.E.N. in the picture!
Help us spread the word! We encourage you to get your family, friends, churches and schools involved in our photo challenge and share our PSA. 
JOIN THE CAUSE AND SAVE A LIFE FROM HIV/AIDS!
RELEASE: W.O.M.E.N. is granted the irrevocable and unrestricted right to use and publish photographs, which may be included, for editorial, trade, advertising, educational and any other purpose and in any manner and medium to and including all social media venues; to alter the same without restriction; and to copyright the same without restriction. Release all claims to benefits that may arise from use of images. Also waiving any right  to inspect or approve the finished product or the advertising copy, which may be used in connection therewith, or the use to which it may be applied.